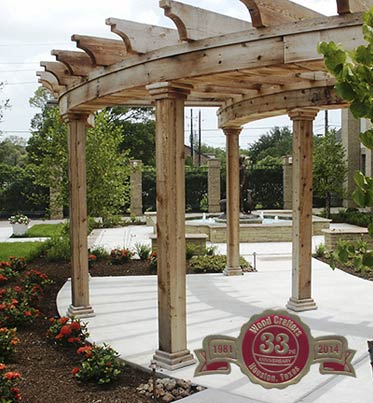 Detailed At-Home Estimates
Serving Houston And The Surrounding Area Since 1981
Affordable, Budget Friendly Designs
Hand-crafted, Outdoor Kitchens Available
How to choose affordable pergolas in Houston?
Consider pergolas in Houston for your next outdoor design project. The trick is choosing an aesthetically pleasing and affordable pergola design.  The most basic pergolas contain four posts and a thick lattice roof constructed out of either pressure treated pine or cedar.  Pine tends to be less expensive than cedar and can save the homeowner hundreds of dollars on the final cost, but improperly sealed and weatherproofed pine tends to look worn and grey after a few years.
Cedar boards cut from the center of mature trees are naturally pest, water and weather resistant without the addition of chemicals.  The boards give off a pleasant aroma, and the color of the cedar blends in with many different home, landscape and backyard designs.
Who has pergolas for sale in Houston?
Pergolas make great outdoor spaces, and there are lots of home improvement stores and contractors that sell pergolas in Houston.  The first step to purchasing the right pergola is deciding the structure's function.  Will it be a place to grill outdoors and entertain friends, or will it be used as a garden accent?  Smaller structures are great for gardens.  Larger structures are good for grilling and entertaining.  Once the size is determined, contact several home improvement stores and pergola contractors, including Wood Crafters and ask about their sizes and styles of pergolas.
Wood Crafters designs and builds high-quality, custom pergolas in Houston for large and small homes with any size backyard.  They can build open pergolas with enough space for a patio table and chairs, and they can build pergolas that are designed to act as trellises.
How to build a pergola in Houston?
There are two ways to build a pergola.  It can be completed as a DIY project, or the homeowner can opt to hire a licensed contractor to build one or more outdoors spaces that contain a custom pergola and grilling area.  Depending on skill level, a DIYer can build a garden pergola in a weekend.  If there is a foundation or patio already present, the process speeds considerably.  If there is no foundation or the pergola is slated to be set in the backyard, a foundation will need to be poured prior to installation or the posts will need to be set 12 inches into the ground.
Wood Crafters specializes in building outdoor spaces, including pergolas in Houston.  Each pergola is hand-crafted and custom built according to the homeowner's specifications.  Potential clients can expect fast and friendly service when they schedule an at-home estimate.  The contractor will arrive at the location on-time and complete and thorough walk-through of the area.  He or she will take the homeowner's ideas into consideration and help them brainstorm potential ideas.  From there, an initial design and estimate will be created for the homeowner's approval.  Once approved, Wood Crafters will schedule a construction date.
Featured Video:
Wood Crafters Offers Pergolas in Houston
Want pergolas in Houston? Wood Crafters has what you need! Since 1981, we have built pergolas that have added tremendous curb appeal to Houston homes. We provide detailed at-home estimates and affordable, budget-friendly designs. You can also choose to have a hand-crafted outdoor kitchen built as well. Call us today for more information.
)
[xyz-ihs snippet="Testimonial1"] 
[xyz-ihs snippet="Testimonial2"] 
[xyz-ihs snippet="Testimonial3"] 
 [xyz-ihs snippet="BIPBusleft"]  
[xyz-ihs snippet="BIPBusRight"]