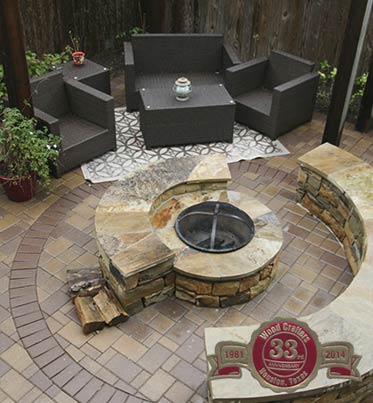 More Than 30 Years Experience
BBB Accredited With A+ Rating
Personalized Attention
Budget Friendly Designs
How to compare stamped concrete vs. pavers in Houston?
Stamped concrete and pavers both create beautiful driveways, sidewalks, paths and patios.  In order to choose the right product for the job, it's important to weigh the benefits, drawbacks and costs.  Stamped concrete is poured concrete that has been stamped to create a pattern.  It can mimic the look of brick and stone and can be custom colored.  It is generally less expensive than pavers per square foot.  However, stamped concrete is a one-shot deal.  It can only be stamped once, and if it cracks or fades, it can be very time consuming and costly to repair.
Interlocking pavers come in a wide variety of sizes and colors and can be laid to create custom patterns.  Installing patio pavers involves digging a certain depth into the ground, laying a foundation of gravel and sand for level surface, placing the stones and locking them together.  If one stone chips or cracks, the stone can easily be lifted out and replaced with another stone.
How much do pavers cost in Houston?
The price of pavers depends on the size of the project, the brand and size of the pavers used and the intricacy of the pattern.  As a general rule, pavers cost between $10 and $20 per square foot or between $2,500 and $3,500 per project when installed by a professional contractor.
Larger projects tend to cost less per square foot than smaller projects, and the costs of installing the pavers can be reduced, depending on how much prep work the owner is prepared to do prior to installation.  Though, the latter depends on the paver stone contractor.
How to install pavers in Houston?
Pavers can be installed as a DIY project or by using a reputable contractor.  Doing a paver self-install is the cheapest way to install a new patio, driveway or sidewalk, but it is very labor intensive and time consuming.  Before the interlocking concrete pavers can be laid down, the homeowner must dig out a specific area to a specific depth, usually six to 12 inches.  A sidewalk and patio with light furniture requires a six inch foundation, and driveways typically require eight to 12 inch foundations for superior stability.  After the foundation is laid and graded, the homeowner can lay and lock the concrete driveway pavers.
Homeowners who are short on time or unfamiliar with laying concrete pavers may wish to use a professional contractor to install their pavers in Houston, including Wood Crafters.  With over 30 years of experience in the industry, Wood Crafters has the skill and professional know-how to expertly lay concrete paver sidewalks, pathways, porches and driveways.
[xyz-ihs snippet="Testimonial1"] 
[xyz-ihs snippet="Testimonial2"] 
[xyz-ihs snippet="Testimonial3"] 
 [xyz-ihs snippet="BIPBusleft"]  
[xyz-ihs snippet="BIPBusRight"]