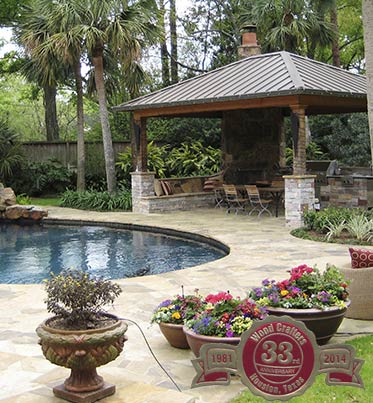 Budget Friendly Driveway Paver Design And Installation
More Than 30 Years Industry Experience
Detailed Estimates
On-Time InstallationSources
Who has the most affordable patio covers in Houston?
Many individual handymen and local and national contractors offer affordable patio covers in Houston in a range of prices. To find the right patio cover at the right price, homeowners need to ask themselves a few questions. Will a standard cover provide enough shade? Does it match the exterior of the home, or does it look like a hastily erected addition? How long will the cover last? What are the maintenance requirements?
An extremely inexpensive patio cover may only last a season or two before it needs repairs, which means it could cost more over the long run than a more expensive cover constructed with higher quality materials. To choose the right design and materials, consider hiring a professional Houston patio contractor. Wood Crafters has been offering affordable, custom patio pavers and covers since 1981. They go the extra mile to provide budget-friendly designs that meet the needs of their clients. Their stone and wood covers can even be designed to match the exterior of the home.
Where can I find inexpensive patio covers in Houston?
Inexpensive covers can be built as DIY projects from kits or designs found online or in any home improvement store. However, extremely inexpensive covers may not contain enough support or elements to completely protect against adverse weather and could even cost the homeowner more in the form of weather damage and unforeseen repairs. The first step in ensuring that the patio cover is aesthetically pleasing, durable and safe is to construct it using high-quality materials.
To ensure that your patio cover is constructed according to all applicable building codes, contact a professional contractor. Wood Crafters has been in business since 1981 and specializes in building high-quality, beautiful patio covers. They provide detailed estimates and custom designs to all homeowners in the Houston area.
How to build patio covers?
Wood patio covers are a popular choice among contractors and DIYers. However, it's always best to hire a professional contractor for all outdoor structures. Building a cover for a patio involves the use of extension ladders and specialized power tools, and a weekend warrior or homeowner may not have the experience to perform the tasks safely.
A professional contractor will have the tools, equipment and experience to build a high-quality patio cover that meets all the applicable building codes. They will also be able to tell the homeowner the best way to maintain the cover. Wood Crafters designs and builds beautiful, functional and durable patio covers, and they will schedule an in-person, at-home estimate with an actual cover designer. Wood Crafters provides budget friendly patio cover designs to all home owners in and around Houston. They even build custom pergolas and outdoor kitchens.
[xyz-ihs snippet="Testimonial1"] 
[xyz-ihs snippet="Testimonial2"] 
[xyz-ihs snippet="Testimonial3"] 
 [xyz-ihs snippet="BIPBusleft"]  
[xyz-ihs snippet="BIPBusRight"]