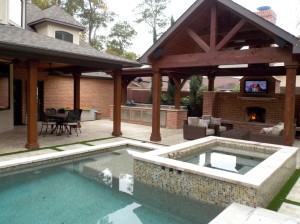 When it comes to quality craftsmanship and design there is no comparison to Wood Crafters. We not only take the time to hear the customers ideas and dreams of what their backyard should look like, but also give feedback to help design the projects according to the customers desires and needs. All of the pictures that you see on our website or blog are of our work that we have produced over the last 30 plus years of being in the business. To say the least we have built an extensive portfolio and a list of satisfied customers that continue to use Wood Crafters when they move to their new homes and even refer us to their friends and family.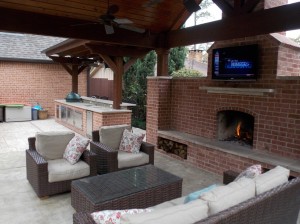 Take for example the following pictures of a recent Outdoor Living Space project that we did in the Memorial Houston area in Houston, Texas. We designed and built this free standing gable roof complete with tongue and groove cedar ceilings and the ultimate brick outdoor fireplace. We also built off to the side of the structure an outdoor kitchen complete with a small roof addition, Big Green Egg, outdoor refrigerator, and sink to meet this customers dream for their backyard project.
We take pride in our attention to detail and you can be assured that we will give our customers the best product for the budget they have in mind. Check out our extensive portfolio and see what we can do for you.