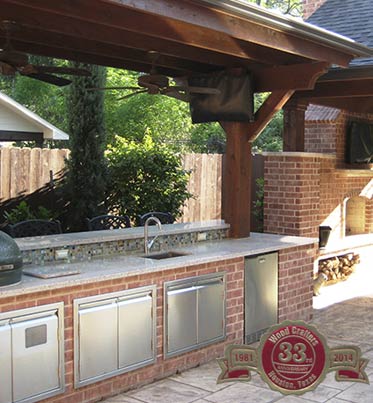 Budget Friendly Exterior Kitchen Design Ideas
BBB Accredited With A+ Rating
Detailed Estimates And Design Plans
Experienced With Paving Stones And FlagstonesSources
Who builds the best outdoor kitchens?
The best outdoor kitchens in Houston are built by reputable contractors and DIYers with lots of handyman experience or DIYers that are willing to research hardscaping and patio kitchen designs. The best outdoor kitchens are ones that meet all the needs of the family and are easy to clean and keep clean.
Professional contractors, including Wood Crafters, should be willing to listen to all the homeowner's ideas and come up with a design plan that meets the needs of the family and stays within the predetermined budget. Wood Crafters can design and build outdoor spaces with kitchens, and they can build high-quality wood pergolas.
Where to find cheap outdoor kitchens in Houston?
There is nothing more appealing than preparing food and grilling in specially designed outdoor spaces, but many homeowners worry about the cost of adding a fully functional outdoor kitchen. What homeowners do not realize is that elaborate outdoor grilling stations and kitchens do not have to be expensive. The basic materials, including stone and mortar, cost about $800. The cost of grills, outdoor refrigerators, counters and storage pantries vary according to the homeowner's tastes and needs, but the entire project, not including a contractor, should cost just under $2,000.
To save time and hassle, a homeowner should hire a contractor that's experienced in designing and building custom outdoor spaces to perform the work. Employing a contractor will add to the cost of the kitchen, but the homeowner will be assured a high-quality outdoor kitchen that meets all of the family's needs for the supplied budget.
How to build outdoor kitchens in Houston?
Building an outdoor kitchen is a satisfying and cost-effective endeavor. It adds to the curb appeal of the home and creates valuable outdoor living space for the entire family. A weekend warrior should be able to complete the kitchen in two weekends as long as he or she has a detailed plan. The kitchen can be built on an existing patio or in another part of the yard. However, if there is no patio, a patio will have to be poured or laid prior to construction. The first step to building the kitchen should be defining all the outdoor spaces within the kitchen area. There should be a place for a grill or cooktop, counter space, storage and seating. It's also important to decide if the water, electricity and gas will come from existing sources inside the house or if new power and water sources will be installed. Once all the planning decisions have been made and a blueprint created, construction of the kitchen can commence.
If this sounds complicated or excessively time consuming, a simpler method involves hiring a contractor. Wood Crafters builds outdoor spaces that include grilling and food preparation stations, and they have experience working with natural stone blocks and stone veneers. They can also add additional features, including patio covers and custom walkways.
Featured Video:
Call Wood Crafters for Exquisite Outdoor Kitchens in Houston
In Texas, having outdoor kitchens in Houston is almost a requirement. The weather lends itself to some great outdoor cooking. Wood Crafters can construct an outdoor kitchen for you that meet all of your needs and more. We can come up with budget-friendly design ideas that suit your needs. Our crew will provide detailed estimates as well. We are experienced with pavers and flagstone. Also, we have received an A+ rating from the Better Business Bureau.
[xyz-ihs snippet="Testimonial1"] 
[xyz-ihs snippet="Testimonial2"] 
[xyz-ihs snippet="Testimonial3"] 
 [xyz-ihs snippet="BIPBusleft"]  
[xyz-ihs snippet="BIPBusRight"]