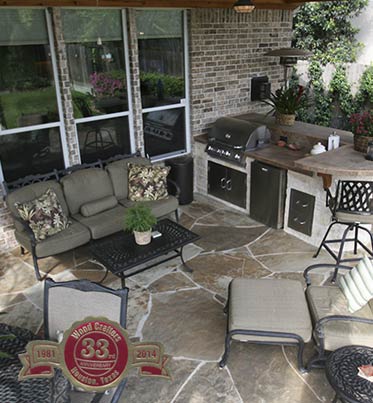 Experienced Patio Installers
Serving Houston For More Than 30 Years
Budget Friendly Designs
Accurate EstimatesSources
What are the best flagstone patio designs?
The best flagstone patios are ones that incorporate all the household members' needs. Do the occupants like grilling outdoors, sitting outdoors and/or entertaining family members and friends? A patio that incorporates all of these needs would have a lounge space for a table and chairs, a grilling area and an area for recreation.
This could mean partitioning off sections of the patio with different colored flagstone boarders or providing seating via stone walls and/or benches. Advanced designs can even include counter space for food preparation and fire pits and fireplaces for fall, spring and winter warmth and ambiance.
What is the cost to install a flagstone patio?
When calculating the cost of a flagstone constructed patio, it's important to calculate the labor costs as well as the material costs. Labor costs for a basic 200 square foot patio range between $1,000 and $1,700. Labor costs for an elaborate 200 square foot backyard patio range between $2,100 to more than $4,000. Material costs range from $700 to $4,100, depending on the size and quality of the stones. Homeowners should expect to spend between $10 and $20 per square foot of patio space, which means homeowners should budget a minimum of $2,500 for a professionally installed 200 square foot patio.
A DIY patio installation is considerably cheaper than a professional installation, but homeowners should be prepared to spend a lot of time researching flagstone and patio paver construction prior to the install, and they should set aside a weekend to complete the project.
How to build a flagstone patio?
Building a patio out of flagstone is a time consuming task. For weekend warriors, it is recommended that they view several how-to videos on installing flagstone. The first step to installing a patio is digging the foundation. The foundation should be deep enough to allow for either a concrete or gravel sublayer and the placement of the flagstones. If the ground is uneven, it should be graded until it is a flat surface. This could mean cutting out large sections of hills, which involves the use of heavy equipment. If the homeowner or weekend warrior isn't familiar with heavy equipment, he or she should employ the services of a professional to prevent injuries and costly mistakes.
When it comes to installing safe and durable patios, a professional contractor, such as Wood Crafters, should be consulted. A contractor can provide detailed estimates and design ideas, and the homeowner is guaranteed a beautiful and functional patio that meets his or her needs and the needs of the family members. Wood Crafters can even design custom outdoor kitchens along with the patios.
Featured Video
Let Wood Crafters Install a Flagstone Patio in Your Backyard
The professionals at Wood Crafters are the ones to call when you need a flagstone patio. We will provide details and estimates as well as design ideas, so you can have the patio you always wanted. It will meet all of your needs while serving as a functional addition to your home.
[xyz-ihs snippet="Testimonial1"] 
[xyz-ihs snippet="Testimonial2"] 
[xyz-ihs snippet="Testimonial3"] 
 [xyz-ihs snippet="BIPBusleft"]  
[xyz-ihs snippet="BIPBusRight"]