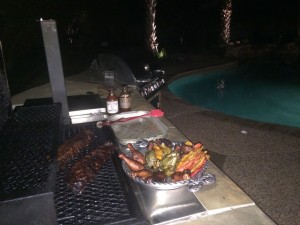 Outdoor Kitchens in Houston are really becoming an extension of the home and an ideal place to throw something on the grill or pit to entertain friends and family. Have you ever dreamed of turning your plain old backyard patio into a unique outdoor living space where you can entertain? Or maybe a total backyard escape with all the amenities of a hotel resort or vacation get away just steps away from the comforts of your home.
Are you tired of the same old mundane routine of staying indoors glued to your chair in front of the TV or becoming a couch potato with one of your favorite books? Why not create a backyard design for your home, something new and inviting for you to take advantage of Houston's ideal weather.
Who do you call in Houston for a unique Backyard Design or Outdoor Living Space? Call the experts at Wood Crafters. They have the design team, talents and vision to turn your plain old patio into something unique and inviting and have been doing so for over thirty years. From concept to construction they have the talent across the board to guide you through the process.
What does your outdoor grill or pit have cooking on it tonight? Hickory smoked ribs that have been marinating overnight with one of your favorite recipes? Have you ever tried Stubbs Barbeque Sauce and Marinates? He has some of the best in Texas. Or maybe your an outdoorsman who wants to share their recent prize of Quail Diablos (breasted quail stuffed with jalapeños and wrapped with bacon), grilled to perfection to serve as an appetizer for your guests. The options are unlimited and with the help of the experts at Wood Crafters the possibilities are exceptional!