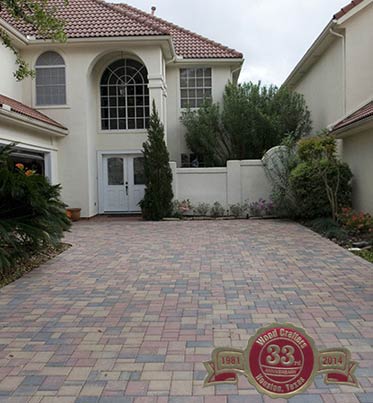 Budget Friendly Driveway Paver Design And Installation
More Than 30 Years Industry Experience
Detailed Estimates
On-Time Installation
What are the benefits of driveway pavers vs. concrete?
Pavers and concrete can both be effectively used to create an aesthetically pleasing and functional driveway. However, it's important to weigh the benefits and drawbacks of both paving methods. Concrete is less expensive and faster to install. It can be stamped and/or colored to match the homeowner's house and landscaping. The major drawback to concrete is the short and long term maintenance. If the driveway cracks, sections of the driveway may need to be torn out in order to complete the repair, and repairs to a cement driveway are almost always noticeable.
The pavers used for driveways are extremely durable and easily changed, repaired or replaced. If one paver breaks or cracks, the single paver can be removed and replaced with another stone. If the driveway needs to be expanded or turned, additional stones can easily be added without tearing out the entire driveway. Driveway and patio pavers in Houston also come in a wide variety of options, including stone, brick and concrete.
How much do driveway pavers cost?
Paving stone costs vary depending on the size and type of the stone. Concrete pavers tend to be the least expensive with an average cost between $2 and $5. Brick pavers fall in the middle with an average cost between $10 and $50 per square foot.
The total cost of purchasing pavers in Houston depends on the size of the project and whether or not the homeowner plans to perform all the work. Hiring a contractor to install the pavers will cost a great deal more than a DIY project. The average cost of a completed paver stone driveway can vary considerably based on size and scope of work and materials chosen.
How to lay driveway pavers?
Laying pavers in Houston is fairly easy but time-consuming. The bulk of the work involves digging the foundation and filling the area with sand and gravel or both sand and gravel. Driveways need to have foundations that are between six and 8 inches thick. If the paver stones are to be level with the surrounding ground, the height of the pavers must also be taken into consideration. This means that if the foundation is 12 inches and the stones are four inches height, a 16 inch foundation must be dug. Once the foundation is poured and graded, the stones can be laid in the desired pattern.
It doesn't take any special skills to lay pavers in Houston, but it is advisable to hire a contractor for speed and quality. Wood Crafters in Houston owns Bellaire Pavers, a professional paving company, that specializes in laying simple and complex stone paver designs. Each customer receives personalized attention and detailed estimates and driveway plans.
[xyz-ihs snippet="Testimonial1"] 
[xyz-ihs snippet="Testimonial2"] 
[xyz-ihs snippet="Testimonial3"] 
 [xyz-ihs snippet="BIPBusleft"]  
[xyz-ihs snippet="BIPBusRight"]