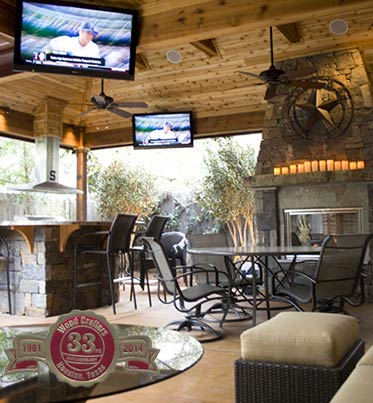 On-Site Estimates
Serving Houston Since 1981
Custom Plans
Experienced Hardscaping
What are the best backyard designs?
The best backyard designs are ones that are aesthetically appealing, well-organized and create curb appeal. To get a few ideas, look around the local neighborhood and gather a few pictures of outdoor spaces from magazines and online sources. There are hundreds of backyard hardscaping images and plans available. One or more ideas may work perfectly for the intended areas.
Another alternative is to have a professional, licensed and experienced hardscaping contractor, such as Wood Crafters, visit the intended home and examine the backyard and exterior. Wood Crafters can suggest ideas and design custom plans for all sizes of backyards. They can even design outdoor kitchens.
Where can I find cheap backyard designs?
Cheap backyard design ideas can be found by looking through home improvement and landscaping magazines and by doing various online searches for outdoor spaces. There are thousands of images and ideas available for free. To make the designs work for any home, keep in mind the size of the backyard and the design elements of the home.
Once pictures and plans have been downloaded and printed, focus on the needs of all the family members and answer a few questions. Will we be entertaining family and friends outside? Do we need a grilling area? Do we need an outdoor fireplace for fall and early spring entertaining? Do we want stone, wood or cement or a combination of materials? The answers to these questions will help define the outdoor spaces renovation budget and create a baseline for expectations.
How to find companies that do backyard designs in Houston?
Finding a contractor that specializes in outdoor spaces is as easy as asking relatives and friends which contractors they've used in the past. The best references come by word-of-mouth. Another way to search for contractors is to perform an Internet or phone book search. There are several companies in the Houston area that specialize in landscaping and hardscaping. Just remember to properly vet each contractor before hiring them. A professional contractor should be licensed, bonded and insured, and they should be willing to provide references and pictures of past projects. It's also a good idea to check out their BBB rating.
Wood Crafters is BBB accredited with an A+ rating, and they design and install all types of outdoor spaces. They pride themselves on their dedication to quality and customer service. Home owners can count of Wood Crafters to take into consideration all aspects of the project, including budget, exterior colors and design elements of the home, family needs and the size of the backyard. Potential clients can expect a timely in-person estimate, detailed design plans and convenient start and end dates. Wood Crafters can also build custom patio covers in Houston.
[xyz-ihs snippet="Testimonial1"] 
[xyz-ihs snippet="Testimonial2"] 
[xyz-ihs snippet="Testimonial3"] 
 [xyz-ihs snippet="BIPBusleft"]  
[xyz-ihs snippet="BIPBusRight"]